Easy to Eat Healthy
NexDine makes it easier for you to eat healthy. We offer customized solutions that help you lead a healthier lifestyle both in and out of the workplace.
NexDine's wellness initiatives include:
Modified recipes to accommodate vegan, vegetarian, gluten-free and other restricted diets
Loyalty programs using NexDine gift cards to reward healthy dining behaviors
Dietary Needs
Look for these logos on our menus that identify:




Get Your Favorite Recipes
Want to learn more about your favorite dish and how it's prepared? Just use your smartphone to scan the QR code at the point of purchase to download the complete recipe and nutritional information.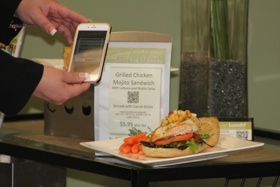 NUTRITIONAL INFORMATION
DOWNLOAD PDF
BEVERAGES
| Ingredient | Calories | Total Fat Grams | Saturated Fat Grams | Cholesterol milligrams | Carbs grams | Fiber grams | Sodium milligrams | Protein grams |
| --- | --- | --- | --- | --- | --- | --- | --- | --- |
| Coffee (Regular and Decaf) | 0 | 0 | 0 | 0 | 0 | 0 | 0 | 0 |
| Tea (Herbal, Decaf, and Regular) | 0 | 0 | 0 | 0 | 0 | 0 | 0 | 0 |
| Sugar, 1 tsp. | 16 | 0 | 0 | 0 | 4 | 0 | 0 | 0 |
| Cream, 1tbsp. | 29 | 3 | 2 | 10 | 1 | 0 | 6 | 0 |
| Carbonated Soft Drinks, 1 oz | 13 | 0 | 0 | 0 | 3 | 0 | 0 | 0 |
BREAKFAST & FRUIT BAR
| Ingredient | Calories | Total Fat Grams | Saturated Fat Grams | Cholesterol milligrams | Carbs grams | Fiber grams | Sodium milligrams | Protein grams |
| --- | --- | --- | --- | --- | --- | --- | --- | --- |
| Applesauce,1/2 cup | 97 | 0 | 0 | 0 | 25 | 2 | 36 | 0 |
| Blueberries, 1/2 cup | 42 | 0 | 0 | 0 | 11 | 2 | 1 | 1 |
| Brown Sugar, 1trp. | 11 | 0 | 0 | 0 | 3 | 0 | 1 | 0 |
| Cantaloupe Melon, 1/2 cup | 27 | 0 | 0 | 0 | 6 | 1 | 12 | 1 |
| Coconut, 1 tbsp. | 35 | 3 | 3 | 0 | 2 | 1 | 2 | 0 |
| Cottage Cheese, Low Fat, 1/4 cup | 41 | 1 | 0 | 2 | 2 | 0 | 229 | 7 |
| Granola, 1/4 cup | 96 | 1 | 0 | 0 | 20 | 1 | 94 | 2 |
| Grapes (Red and Green) 1/4 cup | 26 | 0 | 0 | 0 | 7 | 0 | 1 | 0 |
| Hard Cooked Egg, 1 | 78 | 5 | 2 | 212 | 1 | 0 | 62 | 6 |
| Honeydew Melon, 1/2 cup | 31 | 0 | 0 | 0 | 8 | 1 | 15 | 0 |
| Oatmeal, Cooked, 4 oz | 80 | 2 | 0 | 0 | 13 | 2 | 4 | 3 |
| Mandarin Oranges, 1/2 cup | 36 | 0 | 0 | 0 | 9 | 1 | 5 | 1 |
| Peaches, Canned, 1/2 cup | 85 | 0 | 0 | 0 | 22 | 2 | 7 | 1 |
| Pears, Canned, 1/2 cup | 62 | 0 | 0 | 0 | 16 | 2 | 5 | 0 |
| Pineapple, 1/2 cup | 41 | 0 | 0 | 0 | 11 | 1 | 1 | 0 |
| Raisins, 1/4 cup | 117 | 0 | 0 | 0 | 31 | 3 | 11 | 0 |
| Strawberries, 1/2 cup | 24 | 0 | 0 | 0 | 6 | 2 | 1 | 1 |
| Walnut, 1 tbsp. | 48 | 5 | 0 | 0 | 1 | 1 | 0 | 2 |
| Wheat Gem, 2 tbsp. | 54 | 2 | 0 | 0 | 7 | 2 | 1 | 4 |
| Yogurt, Low Fat Plain, 1/4 cup | 58 | 0 | 0 | 4 | 11 | 0 | 35 | 2 |
| Yogurt, Low Fat Blueberry, 1/4 cup | 80 | 0 | 0 | 3 | 12 | 0 | 35 | 2 |
BREAKFAST & FRUIT BAR
Ingredient
Calories
Total Fat Grams
Saturated Fat Grams
Cholesterol milligrams
Carbs grams
Fiber grams
Sodium milligrams
Protein grams
4 OUNCE MUFFINS
Old Fashioned Blueberry Muffin
310
11
2
10
47
1
420
6
Corn Muffin
340
9
2
10
59
2
641
7
Honey Bran Muffin
350
12
2
5
57
4
700
5
Old Fashioned Cranberry Muffin
310
11
2
10
47
2
420
6
Low Fat Muffin
140
1
0
0
31
0
270
2
8 OUN CE MUFFINS
Old Fashioned Blueberry Muffin
465
16
3
15
70
1
630
9
Corn Muffin
510
13
3
15
88
3
963
10
Honey Bran Muffin
525
18
3
7
85
6
1050
7